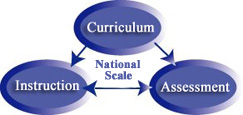 The CASAS Implementation Basics training explains the foundational framework of the CASAS System. Each person involved in CASAS testing must complete this training prior to ordering and administering most CASAS multiple-choice tests. Each unit in this training offers an informal quiz to check your understanding of material covered in the unit. You will complete a certification activity at the conclusion of your training and generate a certificate of completion.
At the end of this training, you will be able to:
Select appropriate CASAS tests
Administer and score CASAS tests
Interpret and use test results
Identify CASAS Competencies and how they relate to the test
Define CASAS Content Standards and identify the relation between CASAS Competencies and CASAS Content Standards
Look at the links between curriculum, instruction, and assessment and how the three fit together
Identify resources for instruction
Audience: This training is appropriate for those who have little or no experience with CASAS assessments and implementation.
Pre-Requisite: None
Cost: Complimentary
Time Commitment: Two to three hours
Enrollment Duration: 30 days
Technical Requirements: Any modern web browser
Questions about this training? Contact training@casas.org
Note: Completion of this training meets the California Department of Education (CDE) implementation training requirement for using CASAS testing materials. This training may also satisfy recertification for implementation within your state. Be sure to check with your state or local administration for recertification requirements specific to your state and program.
IMPORTANT! Before you enroll in this training -
Please add onlinereg@casas.org and noreply@training.casas.org as contacts in your e-mail program.
If you do not receive your e-mail confirmation of registration within 1 business day, please check your "spam" or "junk" folder.
Your confirmation e-mail will include steps to access online training.